Angela Barsotti came to Pilates by way of a car accident and by the time she met her first teacher, her once fit body was two hundred and thirty five pounds of shuffling dead muscles and occasional crawling up the stairs. By her third lesson she knew that she had found her calling and she hasn't stopped learning and growing since. Due to her own experiences Angela tends to work most with "broken" or degenerating or healing bodies but she loves teaching healthy people as well.
She first certified in Pilates in 2003 and has been continuing her education ever since with workshops, c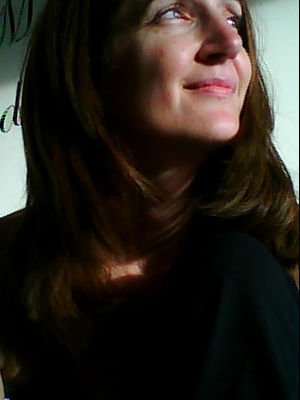 onferences and private lessons.  She has practiced Pilates, climbing, swimming, running, weight training, cycling, track and field, calisthenics, contact improvisaton, skiing, snowboarding, hand drumming, random dancing, several forms of golf except the one with clubs and a small white ball and any other movement idea that catches her fancy.
Angela is most fascinated by balanced and poised movement that includes the whole self and is studying the Alexander Technique because it is a perfect precursor to Pilates and all forms of movement and learning and living.  She should be completed her three year training program and certified to add that to her extensive teaching repertoire in January of 2016. [This is no longer true, until the concussion suffered in August of 2015 is healed enough for her to continue this program is on hold and as the future is impossible to predict she may never finish.  Fortunately her ability to teach has not been hindered.]